4-3-3 Soccer Formation
The 4-3-3 was a development of the 4-2-4, and was played by the Brazilian national team in the 1962 World Cup. The extra player in midfield allowed a stronger defense, and the midfield could be staggered for different effects.
The calling card of this formation is "attack." This formation have been used by some of the Brazil, Portugal and Holland of the past. In fact, Brazil used it during the 1962 world cup. The 433 uses this lineup to accomlish its primary goal: 1 keeper, 4 defenders (1 right back, 1 left back, 2 center backs), 3 midfielders, 3 forwards.
The 4-3-3 has inherit weaknesses and strengths. During the course of running it throughout the game it does not hold its 4-3-3 shape the entire time. The formation molds and bends based on the game situation, if the team has the ball or not etc. For examle, when not in possession of the ball it just about morfs into a 4-5-1.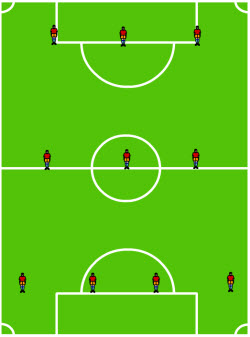 As you see in the image to the right it is made up of the basic 4 in the back, 3 in the middle, and 3 up front. Because each section of it has a different role its important to understand what each player does.
As each position is describe you will begin to realize the formations must be chosen based on your personnel.
Center Forward
One of the roles is to keep the central defenders of the opposing team occupied thus allowing the wingers to go one on one with the opposing teams fullbacks.
Defense
Essentially when not in possession the back four play usual roles in defense.
The Wing Players
These players provide width while attacking and defense when the team does not have possession. These players should be in good physical condition because of the requirement to play on both sides of the ball.

The basics of the 4-3-3 soccer formation
Teams that use the 4 – 3 – 3 formation typically have 2 lively wingers who provide width in attack and defensive support when not in possession.

4-3-3 Fundamentals
Learn about the 4 3 3 Fundamentals, the weaknesses, and the strengths.